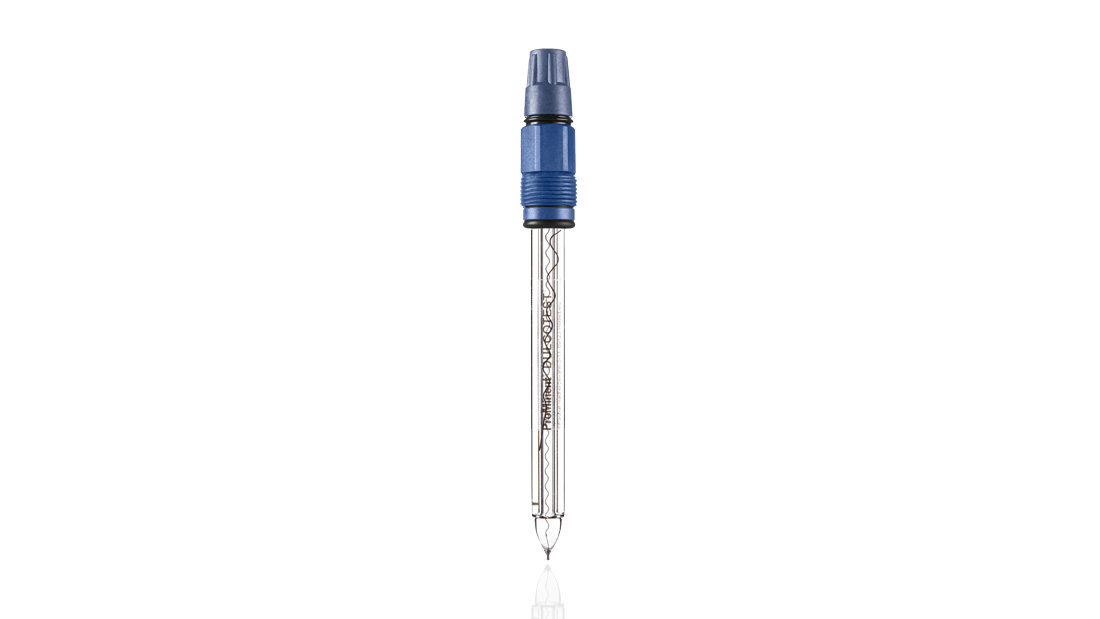 Picture can differ from the selected variant.
ORP sensor for use in clear process water up to 3 bar back pressure.
ORP sensor optimized for use in drinking water treatment, swimming pools/whirlpools at up to 60 °C/3 bar
We currently only offer an extract from our product portfolio, other variants are available on request.
Send Request
Description
Electrochemical combination electrode: ORP and reference electrode integrated
Diaphragm and reference system optimized for use in swimming pools and for drinking water
Ceramic diaphragm with special material, optimized size and optimized pore diameter
Long service life due to reduced diffusion ("bleeding") of the electrolyte
Long service life due to material that is inert to aggressive disinfectants
Stable reference system
Rotatable sensor head sleeve. This allows the cable to remain connected when installing and removing the sensor and prevents moisture on the plug contacts
Lead-free glass for advanced and environmentally friendly production, use and disposal (RoHS compliant)
You can find more product details and downloads on our Corporate Website.
Properties
| | |
| --- | --- |
| Temperature | 0…60 °C |
| Max. pressure | 3.0 bar |
| Min. conductivity | 150 µS/cm |
| Electrolyte | gel containing potassium chloride |
| ORP electrode | Platinum |
| Diaphragm | Ceramic |
| Sensor shaft | Glass |
| Shaft diameter | 12 mm |
| Installation length | 120 ±3 mm |
| Fitting position | Vertical up to +25° |
| Thread | PG 13.5 |
| Electrical Connection | SN6 plug-in head, rotatable with a ProMinent cable |
| Enclosure rating | IP 65 |
| Process integration | Bypass: open outlet or return of the sample water into the process line, inline: direct installation into the pipework; fixed or replaceable (replaceable fitting), tank, channel: Immersion in the immersion tube |
| Controllers | all DULCOMETER controllers |
| Typical applications | Swimming pools, whirlpools, potable water. |
| Resistance to | Disinfectant |
| Measuring principle, technology | Direct potentiometric measurement, 2 electrodes, gel electrolyte, ceramic diaphragm |
Delivery contents
Delivery time: 3-4 weeks
Variants
| Order Number | Price | Delivery time | Installation length |
| --- | --- | --- | --- |
| 150703 | | Usually In Stock (if not 3-4Weeks) | 120 ± 3mm |
Electrical connection:
SN6 plug-in head, rotatable with a ProMinent cable
, SN6-Steckkopf, drehbar mit ProMinent-Kabe
Electrolyte:
gel containing potassium chloride